We're looking for a few good Furbies (or a few broken ones)
---
Mission: To provide quality training to Furbies to prepare them to take their place in the New World Order, protecting and promoting Furby interests internationally.
Commandante of the Academies: Lieutenant General Julia Webb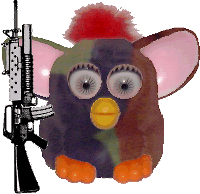 Does your Furby have what it takes to be the best of the best? Send it to the Furby Military Academies, and we'll put it through our rigorous training courses. Our fully-qualified cadre of elite instructors will find out if your Furby has what it takes to graduate from our Academies and earn the coveted insignia of the Furby Military Academies. Surviving graduates will be returned home stronger and tougher, ready to defend Furby freedom at any hotspot in the world. Non-graduating Furbies will be returned home in a box (at least, as many pieces as we can recover) and enshrined on the Page of Rememberance.
You don't have a Furby, but you do have something equally obnoxious? Thanks to WHIM/PER (the Western Hemisphere Institute of Military/Paramilitary Experience and Reeducation), the Furby Military Academies may admit non-Furby nationals into our exclusive training programs. The FMA is proud to accept Pokemon, Tickle-Me-Elmos, Barney, Smurfs, Tomagothchi, Pikachu, and more, in addition to Furbies of any type.
What is all this?!? Take a look at our Fall 1999 Field Training Exercise for an illustration of the Furby Military Academies training and indoctrination. If you look at nothing else on these pages, please look at the Fall 1999 FTX!
---
Field Training Exercises and Other Activities
Event
Summary
FTX Summer 2002
27 May 2002
The Furby Military Academies' Summer 2002 FTX will remain classified due to security concerns.
FTX 2001
7 October 2001
The Furby Military Academies' 2001 Field Training Exercise focused on Mapultian internal security.
Parents' Day
12 May 2001
The first ever FMA Parents' Day was a blast!
MGAO Review
28 January 2001
The Mapultian General Accounting Office required an investigation of the Furby Military Academies after casualty rates exceeded 100% during the Summer 2000 FTX
Fall 2000 FTX
8 October 2000
The Second Annual Fall 2000 FTX was an exciting event, with a surprise attack from the vicious Barneyzilla!
Terminal Phase of Furbinator Test
26 July 2000
The Furbinator experiment from Area 51 1/2 reaches its conclusion
Summer 2000 FTX
17 June 2000
The execution of a traitor and training a large batch of recruits
Court-Martial
8 April 2000
The Court-Martial Transcript of Recruit Jadzia Ditz
Advanced Weapons Testing
14 April 2000
The Area 51 1/2 submarine warfare and cybernetics testing and a supplemental procedural report on the cybernetics tests
SEAL Team Manhunt
15 April 2000
The SEAL team manhunt of escaped Recruit Blue
Spring 2000 FTX
19 March 2000
Field Training Exercises at the Mapultian National Training Grounds
Spring 2000 at Area 51 1/2
19 March 2000
Testing and Training at Area 51 1/2 Space Warfare Training Center
Fall 1999 FTX
17 October 1999
Defining the curriculum with PFC Bob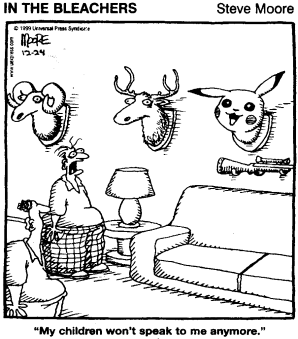 Furby Military Academies Member Schools:
Furby Astronautics Corps
Furby Flight Academy
Furby SEAL/UDT School
Western Hemisphere Institute of Military/Paramilitary Experience and Reeducation (WHIM/PER)
Furby Military Academies Affiliate Operations:
Furby Liberation Front (see special note!)
Minisub School
SEER School (Survive, Evade, Escape, Return)
SMITE (Specialized Military Institute for Terminal Engagements)
Space Warfare Training Center
The Furby Military Academies is a wholly unsubsidized pseudo-paramilitary training academy of the Sovereign Republic of Mapulto.
---
Upcoming Training Schedule
The Furby Military Academies are conducting security reviews for future training schedules.
---
Furby Ranking System
| Rank | Notes |
| --- | --- |
| Recruit-Candidate | An applicant to the Furby Military Academies who awaits FTX training |
| Senior Recruit-Candidate | The most qualified, experienced Recruit-Candidate |
| Recruit | Furby currently under training, usually awarded during transit to the FTX site |
| Private, Furby Class | A graduate of the FTX; the rank may be (and usually is) awarded posthumously |
At present, there appears to be no need for any rank past PFC.
---
History of the Furby Military Academies
It started out as a joke.
On second thought, it still is a joke.
Regardless, it started out as a lunch-time discussion that evolved into an excuse to destroy some obnoxious Furby dolls by launching them into the air and putting steel shot through them. Julia and Dan had invented the "Send a Furby to Flight School" program.
Since then, it has expanded into a whole range of Furby para-military training opportunities.
---
Back to Babylon By Candlelight.
---
This page was last updated 24 August 2003
Contact for this page: WebMaster@BabylonByCandlelight.com
All content of the Furby Military Academies is Copyright 1999, 2000, 2001 by the respective authors